Bellows and High Temperature Thermal Seals
Bellows
At our shop we design, manufacture and install expansion bellows and bolsters temperatures up to 1400°C. For example: fluegas bellows, expansion bellows, duct bellows, multitube bellows, monotube bellows.
Multi-layer design, incorporating high temperature resistant wire mesh, foils and special coated glass cloths, are used to built up the bellow. Several shapes, from rectangular to circular, including flanges with boltholes can be made with very short delivery times.
We manufacture bellows to your process circumstances. The bellow can be supplied with inner bolster, deflection plate and fastening materials like steel contraflange with bolts and nuts.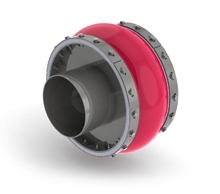 Tailor made products
Besides bellows, we manufacture custom made packings and seals to suit your requirements. These packings, such as e.g. tadpole packings, can be manufactured in several qualities up to 1200°C. For example: Conical seals, tube seals, telescopic seals, quilted sleeves, spring joints. We also manufacture seals from paper, board and blankets.
All materials to manufacture bellows and seals are readily available in our warehouse, so we can manufacture with very short delivery times.